Travel is such a mind-broadening experience.  From the monumental to the minute, there are things to be learned and observations to be made.  So, sitting on the patio of the hotel on the outskirts of Port-au-Prince, sipping a hard-earned brew at the end of the day, I noticed this huge, chartreuse-colored, bumpy, round fruit growing in a tree above me.  Thinking I'd seen it in an Asian food market somewhere along the line, I wondered A) What it was and B) What it was doing here.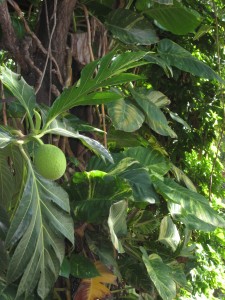 A little on-line investigation revealed that it was breadfruit. Originating in the South Pacific, the species was spread throughout Oceania by intrepid islanders settling the numerous islands of Melanesia, Micronesia, and Polynesia. Due to the efforts of Captain Bligh and French voyagers, a few seedless varieties from Polynesia were introduced to the Caribbean in the late 1700s. These gradually spread to other tropical regions. Breadfruit is now grown in close to 90 countries. Countries like Haiti, apparently.
Breadfruit is a versatile crop and the fruit can be cooked and eaten at all stages of maturity.  It is mainly grown as a subsistence crop in home gardens or small farms and is an excellent dietary staple, comparing favorably with other starchy staple crops commonly eaten in the tropics, such as taro, plantain, cassava, sweet potato and white rice. Carbohydrates are the main source of energy. Additionally, breadfruit is a good source of dietary fiber, potassium, calcium, and magnesium, with small amounts of thiamin, riboflavin, niacin and iron. The seeds are edible, resembling chestnuts in flavor and texture. They can be boiled, roasted, or ground into meal and are a good source of protein and minerals. (Incidentally, recipes can be found at:  www.ntb.org/breadfruit)
The trees begin bearing fruit in 3 to 5 years and are productive for many decades. They require little attention or care, and can be grown under a wide range of ecological conditions. Throughout its range, breadfruit is grown in home gardens and small farms interplanted with a mix of subsistence crops, cash crops, and other useful plants. The trees form a protective overstory providing shade, mulch, and a beneficial microclimate. Cultivating breadfruit trees protects watersheds; replacing slash-and-burn agriculture and field cropping with a permanent tree cover. What a wonderful crop to plant in Haiti, where deforestation is at a whopping 98% and watershed damage due to erosion is tremendous.
Thinking this over, I looked at some of the tree of life metal sculptures on our website.  (www.itscactus.com)  Bingo – the breadfruit was there.  Tree of life.  How appropriate.