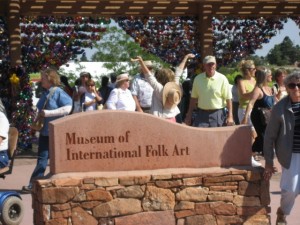 For color, cultural richness, and acquisitive opportunity, you can't beat the International Folk Art Market.  Held annually the second full weekend in July in Santa Fe, NM, this year's Market holds plenty of promise.  Beyond Borders has sponsored artists in the past, and though we're not participating as a vendor this year, it's not because it's not worthy.  It IS!  By plane, train, automobile, or on horseback, if you can make it, GO!
According to their press release dated May 23, 2012, the mission of the Market is to "provide a venue for master traditional artists to display, demonstrate, and sell their work.  By providing opportunities for folk artists to succeed in the global marketplace, the Market creates economic empowerment and improves the quality of life in communities where folk artists live." Many of the artists come from developing countries where political, social, and environmental hardships can make everything – including the creation of art – challenging. To illustrate the impact of Market sales, $2.3 million went directly to the artists last year alone. That money was carried back to villages around the globe and used to build homes and schools, to dig wells for clean water, and construct generators for electricity.  It's a powerful bottom line.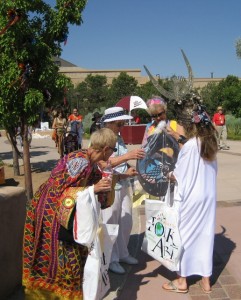 It might be well to mention here that the Market is also A LOT of fun. In addition to the wondrous array of folk art for sale, there is ethnic music, dancing, and food, not to mention the visual feast.  Many of the artists come in their local, native costumes, and to be honest, the shoppers are pretty colorful too!  A few years past, there was a petite, blue-eyed blonde woman, heavily laden with her Market purchases, wearing a Pakistani bridal gown, mirrored and appliqued in brilliant shades purple, scarlet, and yellow.  I couldn't take my eyes off of her – she looked amazing.  So I told her just that.  Her reply was, "Do you like it?  I absolutely love this gown.  I got it in India years ago.  But you know, here in the States, you can't wear it just everywhere." I sympathized.  Probably not.
It's not too late to plan your trip.  The official Market website www.folkartmarket.org has everything you need to know in the way of events, artists, getting tickets and getting around.  Get clicking and when you see what marvels are in store, just try to tell me you're not tempted to drop everything and go.  (I won't even believe you.)