S
o how was it?  Being there for the dual purposes of A) supporting the worthy goals of the Market and B) personal acquisition, I can tell you without reservation, it was GREAT!  The high quality of the art and the variety of goods available is incredible.  Plus, it's such a treat – not to mention an education – to meet the artists.  In many cases, there is the additional opportunity to see them demonstrate their craft.  Throw in the chance to participate in an event that last year generated $17,300/booth for the artists to take home to their families and communities and WOW, you've got plenty to feel good about.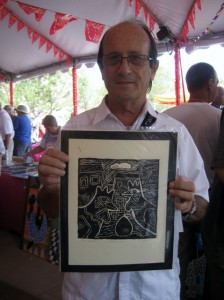 The Market organizers said that there were more than 150 participating artists, including 60 newcomers, this year from 54 different countries. In real terms, that meant I saw many of my old favorites and met a few new ones.  Among those I was particularly excited about was not entirely new, just new to me.  Cuban painter and wood-block printer, Roberto Domingo Gil Esteban was delightful.  His paintings are bright and cheerful and beautifully executed, but it was his woodblock prints that I couldn't walk away from.  The one that I seized upon is of two roosters contemplating an egg and the title of it is "Paternity?"  Too funny!  My original thought was that it could go to a friend of mine for Christmas.  She's a great collector and has been wanting a piece of Cuban folk art for some time.  Wouldn't that be nice of me?  Problem is, I don't know if I am indeed nice enough to give it up, worthy though she is.
Oh, and there was so much more!  It's hard not to gush and get all frothy.  There were Tibetan puppets and Uzbek ceramics and Peruvian textiles that I was mad for, but for every visitor, there is undoubtedly a different list of favorite things.  Which is kind of the beauty of it all.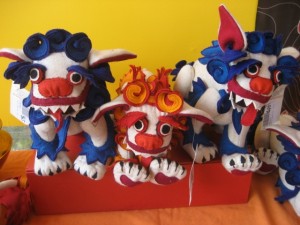 NEXT TIME – for this has become a July tradition for me ranking right up there with fireworks on the Fourth – I will definitely purchase the early admission tickets again, if not go to the Market Opening Party on Friday night.  You pay more for these – in the case of the Opening Party, quite a lot more.  However, with the Market's increasing popularity has come increasing crowds.  That's good in the Big Picture, but from a shopping standpoint, this means that by 10:00 and lasting until about 4:00 on Saturday, the booths do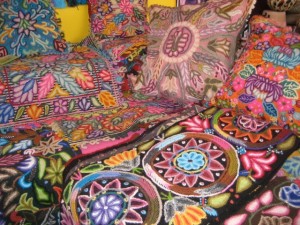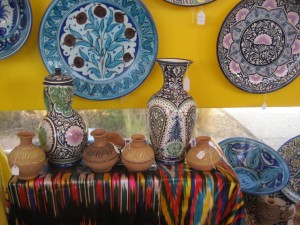 become quite congested.   From 4:00 until closing time at 6:00, it slows down and the tents become more navigable once again. Sunday, the second and final day, gets pretty reasonable after lunch, " they say."  The risk there is that many of the "goodest goods" are long gone.  Who wants to be saying "Coulda…shoulda…woulda," at the end of the Market and still have money left in their pocket, begging to be spent?  Not ME!