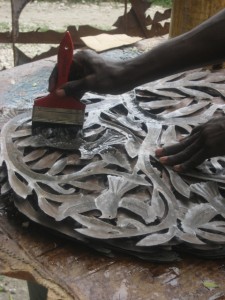 People who buy metal sculptures for the first time often ask:  "Is there any care and upkeep involved with this?" Reasonable to wonder, heaven knows.  We advertise that they are perfectly suitable indoors and out, but it's obvious to anyone that's left their bicycle out in the rain or forgotten garden tools by the sprinkler head that metal will, of course rust. Surface scratching can also occur, for instance if you are storing or stacking pieces. However, neither rust nor scratches are anything that a little clear coat application can't correct with good result.
In fact, the artists in Haiti finish each piece in their workshops by painting on a clear enamel coating and allowing it to dry in the warm Caribbean sunshine.  We touch them up again in the warehouse before they are shipped out to our customers.  Though we've experimented with many different products, we've found that the spray-on clear coat, such as you can buy from Ace Hardware for
for about $4.89 is very satisfactory for that purpose.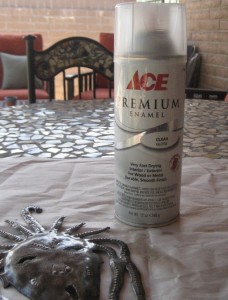 Though I can't say with any great precision, I think I've spray coated about 200-300 recycled metal folk art sculptures from Haiti in my time.  Most were in preparation for retail and trade shows, but admittedly, some from my own collection at home have needed a little "touching up" here and there. Thus, I will tell you that it is a quick and easy fix that I've accomplished many times.  It's also one I've botched up with a recklessness that has bordered on remarkable.
There was the time that I grabbed the black spray-on enamel instead of clear out of the tool shed and used it to touch up the face of a mermaid.  I didn't even notice 'til I hung her up with two others that something wasn't quite right. (Note for future reference:  the color of the cap is the color of the spray.) Then there was the time that I sprayed a sunface just as the first drops of a torrential rain began to fall, resulting in a splotch effect most unbecoming.  Oh, and  another time I got distracted by a bee and sprayed so much on the metal that it appeared as though I was going about rust-prevention with creamy vanilla frosting.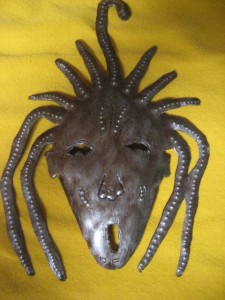 So, not that this would EVER happen to you, but if it did, do not despair. In each case, I waited until the misapplication had dried completely.  Then, using first medium-coarse sandpaper and then a fine steel-wool, I removed the black/splotched/excessive coat.  Finally, exercising a careful assessment of the cap color, the likelihood of imminent cloudburst, and localized bee activity, I proceed as directed on the label of the can. Quite simple, really.
Sometimes I feel as though I live my life as a warning to others.  I don't mean to, actually, but if it helps, you're welcome.