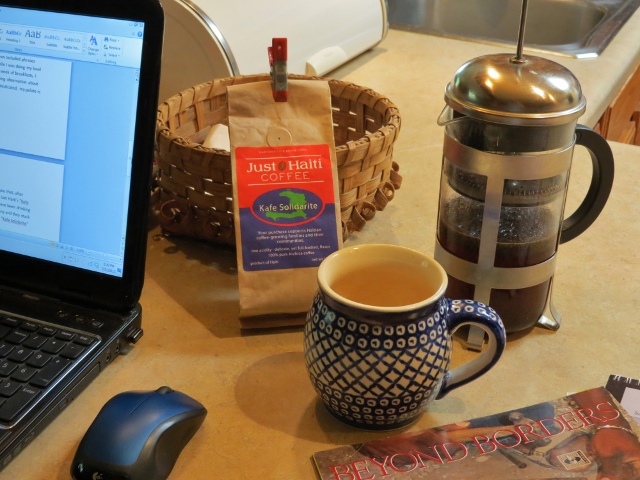 A few weeks ago, I wrote about Haitian coffee and where to get it in the United States.  At that time, I rather brashly suggested a taste-test and promised that one would be forthcoming.  So for those of you who have been waiting for me to do that, you may at this point be suspecting that I have been stalling.  In that assumption, you would be correct.
Let me tell you about taste-testing coffee.  First of all, isn't a taste test, it is a "cupping."  And it's fairly complicated, no less so than wine-tasting.  There are protocols to be observed, such as evaluating the aroma of freshly ground beans, and then dampening a precisely measured amount of grounds in a precisely measured amount of water heated to a degree that must be consistent from cup to cup and, yes, precise.  Furthermore, to achieve a reasonable level of accuracy you would do this three times for each type of coffee that you cup. See for yourself, bearing in mind that it is only a ROUGH procedural guide.  http://www.youtube.com/watch?v=Z5vz7sxlkQI Lord knows what the serious cuppers do!
Then there is the lingo.  I listened to some reviews of other coffees and the reviews included phrases like, "raspberry notes, "and "jasmine overtones, with a long, hazelnut finish." While I was doing my level best to be attentive to taste and smell as I sampled the coffees separately over a week of breakfasts, I kept coming up with "herbal," "smoky" and "oaken," which lead me to the following observation about myself:  I write for a living, but I don't taste for a living. My vocabulary is fairly sophisticated, my palate is not.  This then begged the question, "Should I be doing this???"
I believe the answer is no, to tell the truth.  So this is what I'm going to do.  I will tell you that, after sampling, Rebo's "Melange Gourmet," La Colombe's "Mare Blanche" and "Lyon" and Just Haiti's "Kafe Solidarite," on successive mornings, the latter, Just Haiti's "Kafe Solidarite" is what I have been drinking ever since.  It is smooth, not bitter, and I like it. Plus, they are a small fair trade company and they stuck a "Freshly Roasted Coffee for Linda" label on the package.  Nice!  So if you want some "Kafe Solidarite" freshly roasted for YOU, here's where you can get it:  http://justhaiti.org/
Bottoms up!
Contributed by Linda for Beyond Borders/It's Cactus