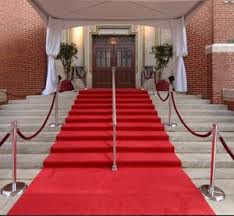 Earlier this week, I was working on an email to let Beyond Borders customers know about our newest catalogue designs for 2014.  I was trying to think of some clever way of presenting them and came up with a Hollywood red carpet analogy.  "Rolling out the red carpet for our newest designs" was the pitch I decided to make, and then I began to wonder how Hollywood ever came up with the idea of using a red carpet as a symbol of high ceremony and exalted welcome.
Back in the days of Ancient Greece, red was a color reserved for gods and kings, and there is a mention of Agamemnon walking along a red carpet into his palace after his victory over Troy.  The use of a red carpet pops up again, centuries later in the United States, when one was rolled out to welcome and honor President James Monroe in when he landed by boat for a visit to Prospect Hill in South Carolina in 1821.
However, the "red carpet treatment" was not truly cemented into tradition and vernacular until the 20th Century Limited train line began using a custom red carpet to welcome and direct its clientele on board.  Operating from 1938 until 1968, the 20th Century Limited ran a high-speed luxury service between New York City and Chicago, catering specifically to the rich and beautiful.  Regular passengers were the likes of the wealthy tycoons and glamorous entertainers such as Bob Hope, Bing Crosby, Doris Day, and Bette Davis. (For a fun article and great pictures of this gracious and elegant mode of travel click here http://www.newyorksocialdiary.com/node/225401/print ) According to Ann Henderson of Smithsonian Magazine, Hollywood rolled out the red carpet for the first time in 1961 for its Oscar ceremonies, and in 1966, when the Oscars were first televised in color, the carpet became instantly iconic. Today, the red carpet has become de rigeur for grand entrances of all kinds.  Therefore, roll out the red carpet.  Our new designs are HERE!
Contributed by Linda for Beyond Borders/It's Cactus