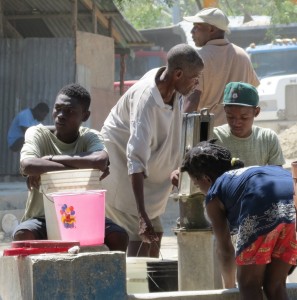 Nearly five years have passed since the January 2010 earthquake rocked Haiti, and the entire world has been frustrated to the nth degree by the seeming lack of progress in the country's recovery.  None are more frustrated though, than the Haitians themselves.  Yet, on our visit to Haiti in September, there was evidence that recovery is, at long last taking place.  I could tell you about the paved roads – three where there were none before –  the absence of the tent cities, and the presence of recycling bins and maybe I will in another blog one day.  But the thing that especially caught my eye, and the thing that crept back into my thoughts again and again both during our trip and afterwards were the water pumps.  Three where there was one before in the heart of Croix-des-Bouquets.
I was told that the pumps were a project of the Haitian government.  The government not only installed the pumps, but also is paying someone to collect 1 goude per fill so that the pumps can be maintained.  At first, I was concerned that a goude might be tough to come by for some, but I was told by a lifelong resident of the village that it's no problem.  "Everyone has a goude," he assured me. "And that way, when the pump needs to be fixed, the money is available.  It's a good thing, really."
Of course, having to pump water is still not the equivalent of turning a faucet at the kitchen sink.  Few if any homes in Croix-des-Bouquets have that luxury. But not having to carry water as FAR is certainly an improvement. If you're like me, you've read time and again about women and children carrying water in developing countries and how the necessity of their labor precludes them from earning a wage, attending school and other fruitful activities which might enable them to increase their standard of living.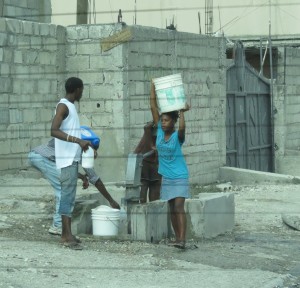 And I got to thinking:  How careful with my water usage would I be if I had to carry all that I used? Statistics to that effect are telling, to say the least.  According to the US Geological Survey website, the average American uses between 80-100 gallons of water  per capita per day.  The average Haitian uses 4 gallons per capita per day.  This, according to the United Nations is well under the recommended daily average of 5-13 gallons of clean water per day. The UN goes further to point out that if, as is typical, a young Haitian girl carries water to satisfy the needs of her entire family (average of seven persons) for a day, she will  be carrying at least six 5-gallon buckets of water, weighing at least 240 pounds.
As I watched the activity around one of the community pumps late one afternoon, I observed an elderly man with a young girl by his side approaching the pump.  Between them, they were carrying three empty 5-gallon plastic buckets.  At that moment, I decided to jump in.  I couldn't provide them with indoor plumbing right then and there, but I could certainly pump a little water.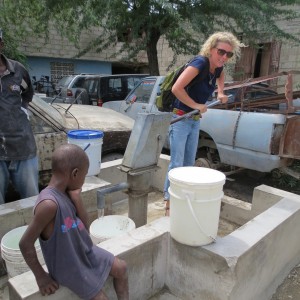 Let me tell you.  It's hard work. I pumped out two buckets in quick succession but my sweat-soaked shirt and heavy breathing were clear evidence that if I was harboring any further gallant notions, they were about to expire – or I would. Thinking fast, I offered the pump handle to Casey and said, "I hate to steal all of the glory.  You can do the last one." And the thing is, neither of us carried the water back to their house when we were done. But it made us both think twice about leaving a last little swallow of water in the bottom of the glass as we got up from dinner at the restaurant that night.  We drank every drop.
Contributed by Linda for It's Cactus