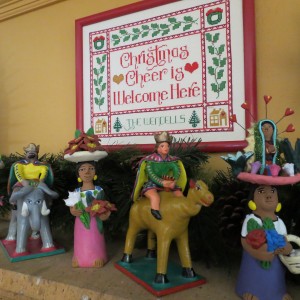 If you are like me, the minute the Thanksgiving dishes are cleared, you shift into heavy holiday mode.  I take inventory of items to be given as gifts that for months have been stashed in the "gift closet," I have grocery lists for cookie baking in process, while wrapping and packing gifts to be mailed are on the "to do" list for next week, as is deconflicting the family schedule to shop for the holiday tree. This week, it is ALL ABOUT decorating.
This year, I undertook my decorating with a determination to be creative and group things together in ways I hadn't tried before.  It turned out to be a fun experiment, with which, I will say with very little modesty, I got good results. Starting with the mantle, I arranged the Ortega Wise Men I collected years ago with my more recently acquired Aguilar market women. (See our wonderful selection of Aguilar figures here. https://www.itscactus.com/catalog/Aguilar_Family-35-1.html ) Who said the Wise Men travelled alone?! They now process splendidly together following yonder star. Then I had a brainstorm regarding Guatemalan belts.  How terrific they look as bows on a wreath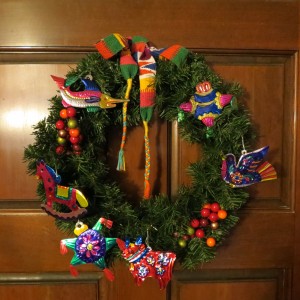 trimmed with Oaxacan tin ornaments!  In truth, I have the wreath hanging in my window, but the backlighting was so horrible,  I opted to photograph it on the door instead. Good either way, says I! (Yes!  We have Guatelmalan belts here: https://www.itscactus.com/catalog/Traditional_Belts_and_Hair_Ties-58-1.html  and Oaxacan tin ornaments here: https://www.itscactus.com/catalog/TIn_Art-70-1.html  Call the shop at 831-998-8993 for an even greater selection.)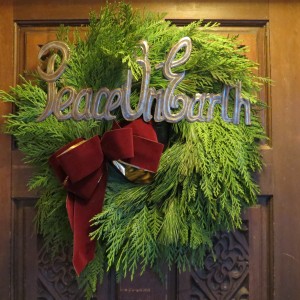 My greatest decorating inspiration, however, came when I spotted our new Haitian metal signs that say "Peace on Earth."  Oh!  I though, "that might look pretty great attached to a wreath."  See what you think.  And by all means, do some experimenting on your own. The best part of holiday decorating is the creative part.  If it wasn't for the creative aspect, decorating would just be work.  Bah-HUMBUG!
Contributed by Linda for It's Cactus