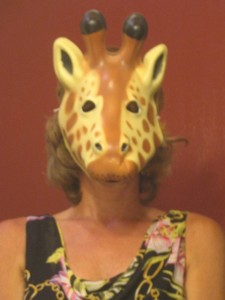 How do collections get started?  Maybe we're drawn to certain images because they remind us of something special – a favorite time or place or experience.  I was with my good friend, Jennifer at the San Diego Zoo one day, having an absolute ball.  We were in our 40's mind you, but I started playing with the masks at the gift shop.  Holding up first the giraffe mask and then the panda mask to my face, I asked her, "Which do you like better?" To which she thoughtfully replied, "Well, the giraffe is more your color."  Immediately, I started laughing so hard I could scarcely stand up, and I bought the giraffe mask right then and there.  Since then, I have bought a few other giraffe items and find myself always tempted by more.
By the way, I have played this all pretty close to the chest.  No one really knows about my great affection for giraffes but Jennifer and me. Thus, my collection has heretofore remained modest and very manageable.
Sometimes, however, friends and relatives get wind of our affinity and suddenly, in their generosity, we find ourselves in possession of gaggles and flocks and herds and swarms. So what is one to do with a great collection gone wild? Just about every interior designer out there says that collections should be displayed as a whole, or at least in groupings within a defined area.  This, they say, gives a cohesive look that defines and personalizes the space and provides the greatest visual impact. For added interest, we should try varying color, size, texture, and medium within the assembly. For example, on a shelf I could arrange my framed photo of a giraffe, my carved wooden giraffe face, and the folk art pottery giraffe, and hang my Haitian metal giraffe sculpture above them.
We must go carefully, though.  Anna, author of the interior decorating DIY blog, "Take the Side Street" cautions against clutter. Ideally, she says, your display should add interest and character your home without overwhelming it. She advises, "If your collection  is enormous, store and rotate the items you display as a means of keeping the whole thing fun and fresh looking."  Indeed.  If a giraffe collection isn't fresh and fun, what's the point? I'm just so glad I don't have to rotate things in….yet!