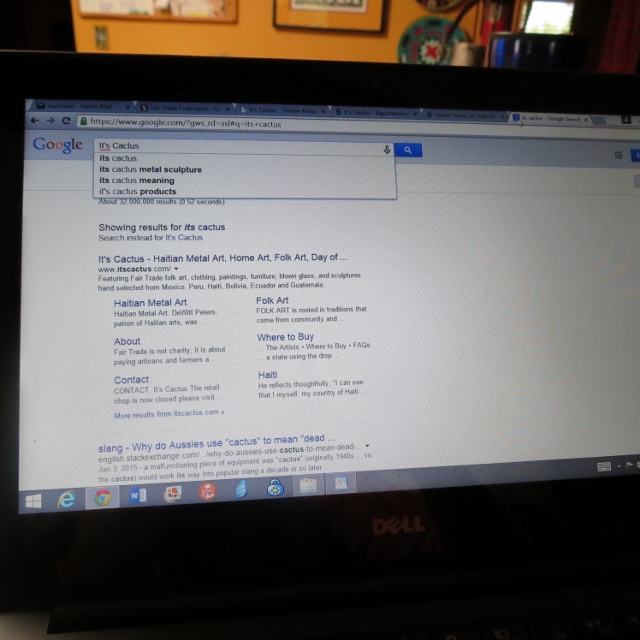 Just to let you know how hip and progressive we are, let me announce that we are launching a new website by way of a little story:
In April, Google announced that it would give organic ranking advantage to websites that are "responsive" to various user platforms. In plain English, this means that websites that can be viewed with equal easy on smartphones, pad, and laptops will have better placement in Google searches, though paid ads will remain at the top. Since It's Cactus is now an online-only retailer and since our old – but beautiful! – website is not of equal viewing ease from phone to laptop, this spurred us to action! We have been working feverishly for months and we are now close, so close, to our new and improved look.
Should I go into detail about the work that this involves? No. Just consider it to be monsterous. It has included reading, learning, shopping, comparing, calling customer service, and spending hours on the phone with our guru, Dennis, of Clever Concepts. It has included trial, error, thinking and re-thinking, organizing and re-organizing, shooting hundreds upon hundreds of photos, writing copy, and inputting it all. Did I mention a significant cash investment? That too.
But it's all going to be worth it. Soon you will be able browse "It's Cactus" easily, whether at home in your jammies or on the go. There will be Haitian iron by the virtual (and veritable) ton, of course, but there will also be an incredible amount of other types of folk art – more than ever before. We have added a product zoom feature, lots of style photos and greater product search capability. There's also a "Wish List" where you can save items that morph from "want" to "need." And there are tools that we can use behind the scenes that will help us do an even better job of making great folk art available to you. It's very exciting!
Even with the launch date now in sight, the new website will still be a work in progress. If there is something about a piece that you need to know, something that we have overlooked, or simply haven't gotten to yet, PLEASE don't hesitate to call or email. We'd love to hear from you. That NEVER changes!
Contributed by Linda for It's Cactus