Creating designs is one of the fun aspects of working with our Haitian artists. Often, we see new and wonderful designs in their shops in Haiti and we can draw and discuss our ideas face-to-face.  In between trips, they send us photos of their work. When we see something that we particularly like, we talk about tweaks and refinements back and forth through text and emails and then we submit a sample order to the artist of half a dozen so that we can see that the quality will be consistent.
One of our latest successes has been our new starfish. Based on a photo sent to us by Ybernson Excellent, we knew they had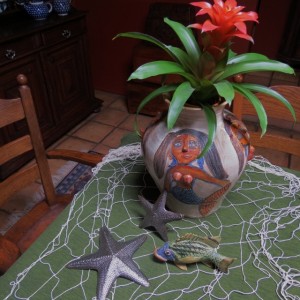 terrific potential. We sampled them back in June, placed a fulll order in July and now, having arrived at the docks last week, they are in our warehouse, ready to go. And look! See how beautiful they are? The contouring and beadwork is spot-on and they have so many decorative possibilities!
One such decorating opportunity occurred to me this weekend, while I was setting up for a wedding shower with an "Under the Sea" theme. Arranged on the table with a few other theme-appropriate accessories, everything combined to make a nice centerpiece. One large one looked terrific propped up against nautical lanterns on the drinks table. No nails or easels required – how great is that?
Of course it goes without saying that the starfish can be hung easily on the wall. One nail through the hole provided is all it takes. They can be arranged together or in groupings with other items, such as around a mirror or another piece of art. They also look great when paired with another of our sculptures – say a mermaid, for instance. Scatter a few underneath one of the larger pieces to " tell the story."
Sold in sets of three, these sea stars are well-crafted and versatile. Additionally, they are weather-proof, handmade, fair trade, and all of that good stuff. So what would YOU do with a starfish? Love to see YOUR ideas!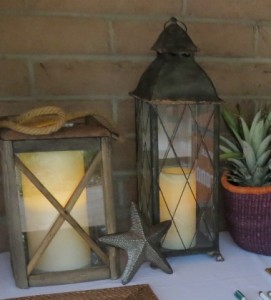 Contributed by Linda for "It's Cactus"