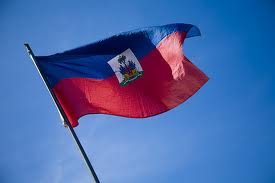 Poor countries have a generally have tough time in Olympic competition.  There are exceptions, of course, but the powerhouses generally are big countries with big populations and big budgets for international athletics.  In this year's Olympics, it is not surprising that the greatest number of medals is currently around the necks of athletes from United States and China.  Yet the athletes of smaller countries compete fiercely and with pride, doing their best to bring honor and glory to their respective homelands in the name of sport.
Representing Haiti in the 2012 London Olympics are five athletes competing in six events. Three are men, two are women. Four are runners.  But only one, Lineouse Desravine, a judoka, is actually from Haiti.  The rest are products of the Haitian diaspora, running in the name of a country for which they have only a connection of heartstrings.  They are in London essentially on their own, yet they are emotionally attached and very close as a team.
Born in New York of Haitian parents that migrated to the United States, triple-jumper Samyr Laine describes the hurdles to be cleared by aspiring Haitian Olympians: "Haiti's last Olympic medal was earned by Silvio Cator in Amsterdam in 1928. Its current budget for sponsoring athletes is $400,000, compared with, say, the United States, which spent $170 million. It just doesn't have any resources and, from my perspective, bureaucracy actually works to hinder the athletes.  Then there's the damage sustained by the earthquake.   Three of the nation's five very, very basic tracks are still being utilized as sites for temporary housing.  In short, you pretty much have to be self-motivated."
So why do they do it?  Well the first and most obvious answer is for the opportunity to compete with world-class athletes on an international stage.  Haiti's team is composed of good athletes, no question, that have worked very hard to get to London, in terms of training and physical conditioning but also in amassing the requisite backing, both governmental and financial.  As of this writing, however, the judoka, Lineouse Desravine, 800m runner Moise Joseph, 110m hurdler Jeffry Julmis, 200 and 400m runner Marlena Wesh have all been eliminated in the first or second rounds.  Only Laine remains.
Perhaps it is not the hardware that drives the Haitian team.  It is the possibility.  It is the chance to give their country, the poorest in the Western Hemisphere, something to cheer about.
Something to take pride in. As Laine says, "If we did win a medal, I know that the entire country and the Haitian diaspora, and people on the island itself, they would just be elated. Even without the earthquake from two years ago, it would still be a big deal to give people their hope.  As athletes, we realize that this is a way for us to use sport to inspire others to rebuild the country, to do great things," Give hope its wings – Jump, Samyr, JUMP!