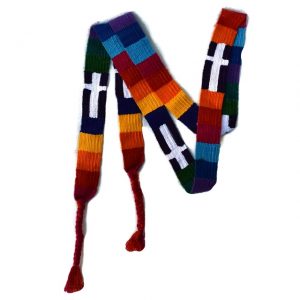 Though it shouldn't be surprising, it is, a little bit.  Our humble little handmade belts from Guatemala have been selling like hotcakes for months now.  They are colorful, versatile, and just right for oh-so many things.  Not only that, they are wonderful, traditional folk art items with a distinctive place in Guatemalan cultural history.
The ancient Mayans, whose ancestors compose a great deal of Guatemala's current population, placed a high value on the weaving skills of their women.  Over a thousand years ago, the Mayans cultivated cotton for textile production. Vegetable dyes were concocted by the men, who also dyed the cotton fibers,  but from there the women took over. Spinning and then weaving the threads, they formed in intricate patterns on simple backstrap looms. Women of royalty were taught to a supremely high level of skill and used cotton fiber of the highest quality to create textiles of great complexity.  The peasantry did not, of course have access to the finest cottons, and the garments they made were often simpler, but in both cases the ability to weave was a measure of a woman's worth.
Interestingly, ancient Mayan steles have been discovered by archaeologists who have identified the goddess of weaving, Ix Chel, busy at her work.  She is depicted as sitting with her backstrap loom, one end tied to a tree and the other affixed around her waist.  The Cosmic Weaver holds the shuttle in her left hand, poised to pass the warp threads through the weft, as generations of mortal women have ever since.
Today, Rosa creates our woven belts in exactly the same manner.  We have been buying her handcrafted textiles for years and always, the pride of her family, village, and culture is worked painstakingly into every piece.  We call them belts or hatbands, and in fact they can be used either way.  But that's not all!  We have seen them affixed to mortar boards at graduations, used as trim on pants and jackets, and as curtain ties – all with great result!  They can be used to tie up packages, or to add color and Latin flair to small holiday trees and wreaths.  Though the origins of handwoven Mayan textiles go back millennia, the look is hot, hot, HOT today!
Contributed by Linda for It's Cactus