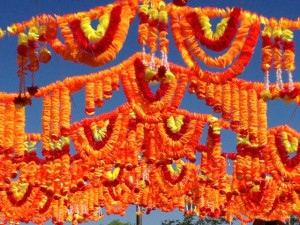 The Santa Fe International Folk Art Market, held this past weekend on Museum Hill was another stellar achievement by the International Folk Art Alliance. The annual event, this one being the 11th, included 150 artists from 60 countries. Though sales records have not yet been released, I can tell you that enthusiasum was high. The Friday night gala and the Saturday Early Bird opportunities were both sold out and Saturday after general admission opened was packed. It is hard for me to imagine that the Market was anything less than a resounding success.
Of course, the Haitian art is near and dear to my heart and its representation did not disappoint. There were 15 artists in 8 booths, displaying metal sculpture, voodoo flags, paper mache masks, stone carvings, and paintings. It was great to see Georges Valris, a sequin artist, and Serge Jolimeau, a metal sculptor – both of whom are friends of It's Cactus – doing well.
And there was so much more! This time, instead of ONLY power shopping, I also took some time to eat – a delicious African lentil curry, thank you very much – and watch some wonderful music and dance performances. Curiously, my favorite performance was off the main stage, featuring an ad hoc duo consisting of a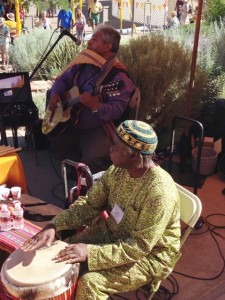 Nigerian drummer and a Peruvian pan flutist. An odd pairing, perhaps, but it worked. I loved the combination, and I can tell you I had plenty of good company listening with me, nodding and tapping to the beat.
The great thing about the Market is the good that lasts beyond the weekend. Ninety percent of artists' earnings go home with them. The money is spent in various ways, but many artists and cooperatives choose to share their good fortune with their communities. Funds have been distributed to provide such basic necessities as food, clothing, new health clinics and freshwater wells. In places where the people struggle with enormous social, political and environmental challenges, the impact is enormous. Forgive me for being trite, but it really is ALL GOOD.
See you there next year!
Contributed by Linda for It's Cactus