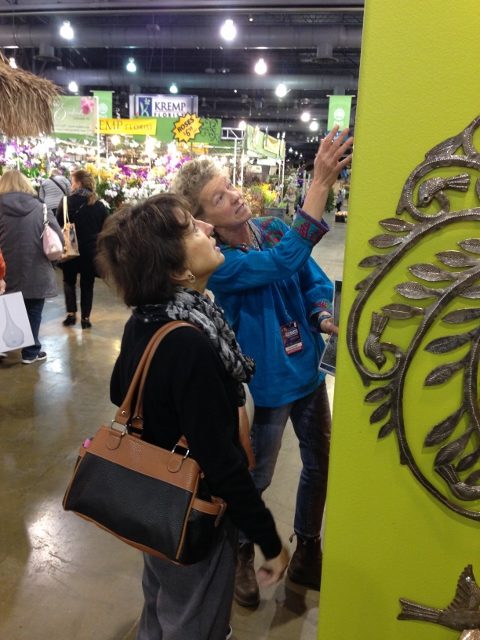 We are back from the Pennsylvania Horticulture Society's Flower Show and happy to report that it was another successful run.  Despite snowstorms and every sort of precipitation that Mother Nature could cause to fall during the ten-day event, the Flower Show participants proved their mettle and pluck and came in great numbers to revel in the beauty of the event….and to SHOP!
The It's Cactus crew was pleased to welcome old friends and new to our brightly-colored signature booth.
Over and over, we shared the story of how our metal sculptures are made from recycled oil barrels by village artisans in Haiti.  It is always gratifying to know how important our practice of Fair Trade is to increasing numbers of shoppers who not only want to buy hand-crafted art, but also want their purchases to support a greater good.  Time and again we were asked, "How much goes back to the artists?" and we were always proud to say that, "None goes back because they have already been paid 100 percent up front."
This response may sound flippant and seem like it evades the question, but it is actually an important point. By trading in this manner, the artists do not have to make initial outlays for materials and labor out-of-pocket and wait for the return on their investments. Such lags, while endurable in strong economies, are virtually untenable in Haiti. Paying up front eliminates that stress and financial burden for the artist, and in many cases, makes trade possible at all. In fact, paying 100 percent up front far exceeds the amount required by the Fair Trade Federation of its members.
Moreover, prices are negotiated with the artist for each design that we purchase. The artist is a full participant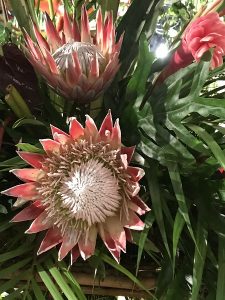 in that decision-making process. Always the discussion includes questions such as, "What do you need to make on this piece so that it is sustainable for you?"  "What can we do to price this piece equitably for you and attractively for our customers?" Along these same lines, we exchange ideas about design, quality control, and consistent flow of output. In so doing, our experience with the marketplace and theirs about the creative process becomes shared knowledge.
Like the flowers, it's a beautiful thing….
Contributed by Linda for It's Cactus