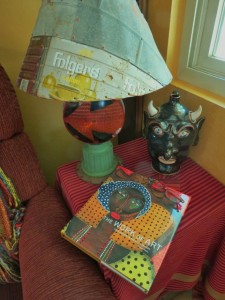 If your coffee table book stack is puny, if your resource library isn't quite up to snuff, or if you've got just a little bit more shelf space, I have a suggestion for you.  A new book that just came out in July from IFAA Media and Museum of New Mexico Press: "The Work of Art," by Carmella Padilla.
Now, I will tell you that between the covers of this book I'm recommending is a fair bit of self-promotion.  You only have to skim down to the second paragraph of the book jacket to read: "At the heart of this story is the work of the International Folk Art Market in Santa Fe…" but that to me is okay.  I like the Market.  Beyond Borders was a vendor there for a number of years and I personally support it by attending whenever I can. As Patricia West-Barker put it in a July 8th article in the Santa Fe New Mexican, "The International Folk Art Market's origins, past, and future are well covered in the opening and closing chapters — but Carmella Padilla's 'The Work of Art' focusses on the personal lives and community accomplishments of many of the artists who helped define the market's first decade." In other words, it strikes a decent balance between promoting the Market and providing useful information about premier artists and their extraordinary work.
The author has plenty of accolades, and she tells the stories of the artists with lovely literary flourishes.  The section on Haitian artists Georges Valris and Serge Jolimeau is illuminating, as are many others, though I will hereby confess that at this writing, I have not yet read them all.  Those that I have read,         however, certainly ring true.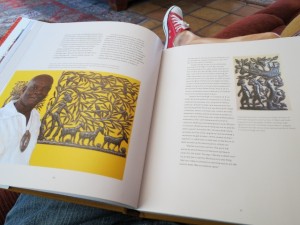 All well and good.  But what really makes the $29 you spend for a paperback version, or $60 for the hardcover (Which you can order online with a click  http://ifamonline.mybigcommerce.com/the-work-of-art-folk-artists-in-the-21st-century/) is the photography by John Bigelow Taylor and Dianne Dubler. If you like what you see in the first 165 pages, you'll eat up the final 65. That section features stunning gallery-style photographs of folk art masterpieces and "was purposefully designed to be a meditation on the artwork," said Kelly Waller, who served as the photo editor for the book. Obvious care went into the selection of works to be featured and the details captured therein are quite simply astonishing.  In the photos are revealed intricacies that defy description, from the tiniest of stitches in a Bhutanese textile to the faintest of brushstrokes on a Mexican ceramic piece.  Whoever coined the phrase, "A picture is worth a thousand words" wasn't kidding. And whoever decided that folk art is "primitive" should have his head examined.
Contributed by Linda for Beyond Borders/It's Cactus