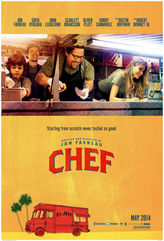 My husband and I rarely agree on movies. I like dramas, historical films, documentaries, and the occasional rom-com. He on the other hand, favors sci-fi, thrillers, and action-adventure movies. You see the problem, I'm sure. Maybe you even sympathize. But it was a dog-day-of-summer afternoon and although both of us had things we SHOULD have been doing, neither of us wanted to do them, so my husband said, "Think there's a movie we could go to?" Quickly, I spun up Fandango and started perusing the possibilities. "A Most Wanted Man"? " Nope." "The Hundred Foot Journey? Oh, no, wait. I'm saving that for Girls Night Out with Sylvia and Angie." (There was a "whew" from the male in the room. I heard it.) "Ummmm…..Would you go see Chef? It's got Dustin Hoffman and and Robert Downey, Jr. and Sofia Vergara and it's about…" "Yeah, I'll go see that."
It didn't matter that he didn't know what it was about. I knew I had him at Sofia Vergara and it started in exactly 20 minutes, which was just enough time, so off we went.
In case you're not up to the minute on this summer's hot movies, "Chef" is a light comedy road movie about the recently fired chef-de-cuisine of an A-list LA restaurant and his efforts to simultaneously re-build his professional life and his family life in the back end of a food truck. (For the trailer,  click  here: http://www.fandango.com/chef_165720/movieoverview ) We enjoyed it – and why not? The cast is stellar, the story is heart-warming, the soundtrack is awesome, and all of that is well and good.
However, there was a scene-stealer and truthfully, I think it made the movie. I don't know if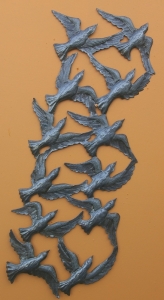 everyone would notice, but I did. And pretty much the rest of the theater audience became appreciatively aware of it when I jumped up in the middle of a dialogue between Jon Favreau and Sofia Vergara and pointed it out in not-very hushed tones. There on the patio wall, right over Sofia Vargara's left shoulder, was REC22. "OMG. 'Birds in Flight' That's OURS!!!"
You want to talk about product placement! Promenantly hung on the mocha-colored stucco wall, delecately framed by bougainvilla. It was lovely. It was perfect. It was OURS!
So when do you want YOURS to ship? It's not every day that you have the chance to order a genuine piece of Hollywood memorabilia. This is your moment! Don't wait! ("As seen in 'Chef' " plaque sold separately.)
Contributed by Linda for It's Cactus