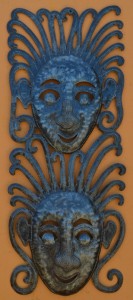 When a sculpture is selected to be sold in the Beyond Borders catalogue or on our website, we photograph it, give it an inventory number, and a name.  This one, for what may be obvious reasons, we chose to name "Double Trouble." The impish looks on these faces, the hair standing on end, the shape of the mouths – all of that said, "Uh-oh" to us.  "Double Trouble," absolutely.  It's cute, it's catchy.  Maybe someone with twins will buy it.
Well, it turns out that twins is exactly what the sculptor, Orelien Romaire had in mind when he created this piece.  But in his culture, images of twins do not symbolize cute and catchy "Double Trouble" at all.  In traditional Haitian belief, twins are Twins.  The powerful loa, Marassa Dossous Dossa, is a plural spirit representing blessings, abundance, the gift of children, the sacredness of family, and the divine. The Marassa Twins are invoked in very serious matters, and especially in the case of the mortal illness of a child.
These traditions of loa spirit veneration were brought to Haiti during the colonial period by the native Africans that were enslaved to work the French sugar plantations.  The Africans tried to keep their religious culture intact, but the French slave owners forbade the practice of any religion other than Catholicism. Period.  Attempts at any other form of worship were punished severely.
To get around the French, then, the slave population adopted a means of correlating their own deities with Catholic saints.  Catholic iconography was thereby appropriated and the The Marassa Twins came to be symbolized by Saints Cosmas and Damian, twin brothers who lived in what is now Turkey and were martyred in 297 A.D. by the Roman emperor Diocletian.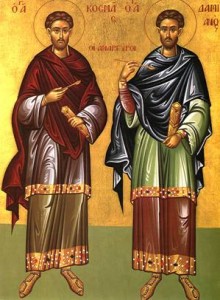 There, the similarities start to diverge.  Cosmas and Damian were physicians and standard-bearers of the early Christian Church.  Today, they are recognized as the patron saints of doctors, veterinarians, children, orphanages, confectionaires, and daycare centers and are invoked in prayer against hernias and the plague. However, there is a rather ironic footnote to add.  To have been canonized, of course, saints must have performed miracles.  The twins, Saints Cosmas and Damian performed a miracle of healing: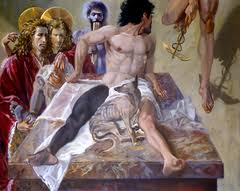 They successfully grafted the leg of a recently dead black man onto a disabled white man, who was thus able to walk again.
I wonder how the French slave holders felt about that…